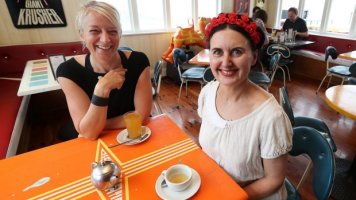 Queen Sally's Diamond Deli is a true testament to the strength of coffee. Like a phoenix, it rose from the ashes of fire-ravaged Maranui Café, opening in Queen's Drive to quell the rumbling stomachs of Lyall Bay.
Though owned by the same friendly Maranui team, Queen Sally's Diamond Deli is its own entity. The deli offers an eclectic range of boutique, gourmet, local and New Zealand made fare to complement its fantastic coffee. Homemade jams, chutneys and relishes sit alongside old-fashioned sweets from Arrowtown, saffron from Otago and olive oil from Al Brown & Co. You can purchase one of Queen Sally Diamond Deli's t-shirts to fit right in with the lovely Queen Sally's crew.
So, whether you're taking away or planning to stay, seeking healthful eats or indulgent treats, you'll find us here every day of the year, dine like royalty at Queen Sally's.